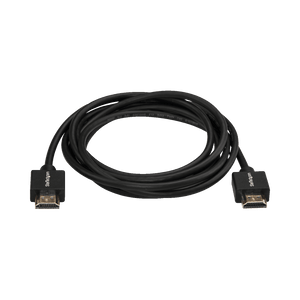 This 6feet HDMI® cable has been tested in accordance with the Premium HDMI Cable Certification Program. This ensures it's able to deliver the newest technical features that the latest HDMI specifications have to offer, including enhanced resolutions and protection against EMI interference.

The cable features high-retention HDMI connectors that fasten firmly inside each port. This helps to prevent accidental disconnections and signal loss.

The cable supports resolutions of up to 4K@60Hz (3840x2160p) and bandwidths of up to 18Gbps. It also supports HDR (High Dynamic Range) for higher contrast ratio and vivid colors.