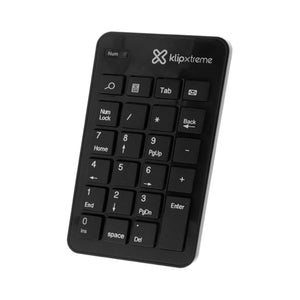 Description
The Klip Xtreme KNP-110 numeric keypad is perfect for typing numbers and playing games. Its slim and compact design makes it easy to carry and convenient to use on any desktop. Featuring an advanced wireless technology, users can now enjoy the freedom of fast and reliable data transmission up to 33 feet away from the receiver. Equipped with 19 function keys and 3 shortcut buttons, you can have the advantage of a wireless numeric keypad that will allow you to instantly start crunching numbers like a pro!
Specifications
Full size 23-key numeric keypad with wireless connectivity
Includes 3 shortcut keys to quickly access the Calculator, Mail and Search functions plus a Tab key
Large island-style keycaps allow increased typing accuracy and speed
Simple setup, just plug the USB receiver into an available USB port of your computer
Integrated ergonomic tilt base for added comfort
The number lock feature is great for those working on spreadsheets, accounting or financial applications
Slim, sleek and lightweight for easy portability
Wide compatibility with computers operating on a Windows platform.