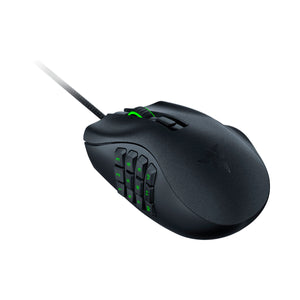 Description
Whether you're a tank, healer or DPS, adapt to any battle and conquer it with the Razer Naga X—an ergonomic MMO gaming mouse with 16 programmable buttons to optimize your skill rotations. Made lighter and armed with other best-in-slot features, it's time you got geared up to top the raid.
Features
16 programmable buttons
Whether you're mapping out the essentials or going all out with advanced macros, have all the commands you need at your fingertips and enjoy a degree of control that's tailor-made for any situation.
85g midweight ergonomic design
From the positioning of its 12-button programmable thumb grid, to the contours of its ergonomic shape, elevate your game with a form factor that feels natural and comfortable to hold and use.
2nd-gen Razer™ Optical Mouse Switch
Every click is actuated at 0.2ms with no debounce delay to give you quick, clean execution for up to 70 million clicks—a faster, more durable design that eliminates unintended double-clicking issues.
Razer™ 5G Advanced Optical Sensor
An 18,000 DPI optical sensor ensures that even the finest movement of your mouse is tracked, giving you an acute level of precision for casting spells and skills.
Powered by Razer Chroma™ RGB
With 16.8 million colors and a suite of effects, sync the mouse with the rest of your battlestation, and enjoy greater immersion as it dynamically reacts with over 150 integrated games.
Razer™ Speedflex Cable
Woven for greater flexibility and designed to produce minimal drag, you'll be able to perform quicker, smoother swipes for tighter mouse control.