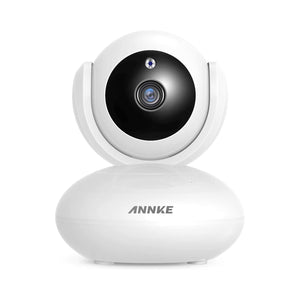 Product Description
Are you tired of security cameras that are not up to the game? ANNKE wireless PT camera is one of the few security cameras that give a superb experience while keeping your home safe. Some of the features that make the camera differ from its previous generation is that it works perfectly well with Alexa as well as it supports low bit rate recording. With its exquisite design and inimitable functions, this little gadget will be your ideal choice for indoor surveillance.
Specifications

Stunning 1080P HD Footage: Annke home security camera pans and tilts to cover every inch of your entire house and stream crystal clear videos to your smartphone, tablet and PC. Thanks to the infrared LEDs, night vision is also outstanding even in the pitch dark.
Low Bit Rate Recording: The smart IP camera boasts low bit rate recording and greatly extends the recording time, thus save you more cost in storage. With a 64GB TF card, it can record continuously for 7 days in normal conditions, longer than its previous generation.
Smart Auto Tracking & APP Alarm Push: Once a moving object passes in front of the camera lens, it pans to follow the object to track and film its trail, like a smart detective. Meanwhile, instant APP alarm pushes will be sent to you to keep you informed all the time.